Apple iPhone 3G gains 24k gold bling
Fancy a bit pf iPhone Bling? They've already given a MacBook Pro gold and iMacs too, and now Computer Choppers has set their eyes on the Apple iPhone 3G and dripped it with a touch of shine.
Apparently though, because of the poor quality of the plastic used on the Apple iPhone 3G it has taken some time to be able to plate the gold. However, the company now has the pleaser, or so they claim, to have delivered the first" iPhone 3G with 24K yellow gold housing and bezel".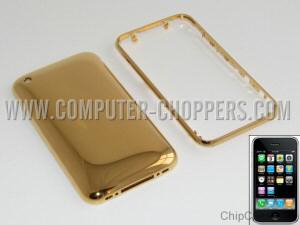 The Computer Chompers team quips: "Some other companies were hyping it up like they had done it before the phone was even released but they don't have photos to back up the talk."
Apparently tests are still being undergone for when the rich and famous wish to have their latest bit of bling tarted with their personalised moniker.
Price…obviously is none at the moment but then it's obviously gone to be way beyond the means of most.
Source — chipchick via pocket-lint