The Nokia N-series, N85 shines above N96 and N79
We have all lined up for you, Nokia's latest N-series, if you want to know what we think of the latest Nokia creations then read on.
Ok, they may only be the prototype devices but it has given us a good indication of what's hot and what's not. We were extremely impressed by the Nokia E-series so they will have to go a long way to impress us after that.
We have almost discarded the N96 and N79, as the three phones almost have identical specifications; it's the N85 that shines out from the series. The N79 screen is almost embarrassing and the N96 just looks bulky.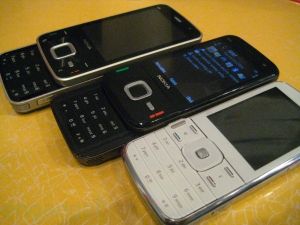 We only want to talk about the N85 as this seriously is the only one of the series we think is worth talking about. It has a fantastic OLED screen, 16GB built-in memory, GPS and Wi-Fi and 5 megapixel camera, although most of these are pretty standard on the new top of the range handsets.
We wouldn't say that the Nokia N series are the thinnest phones either, there is a lot of competition out there and we would have thought Nokia would have come out with a phone to blow us away.
Needless to say we are not blown away at all with the Nokia N-series. Oh, well apart from the price tag of around $895.
Source: engadgetmobile