Blackberry Storm 9530 out soon on Verizon
Here we have it! The box for the new Blackberry Storm 9530 for Verizon, where is the phone I hear you ask, well, we have to wait for that for now this is all we have, but it will give all the Blackberry fans on Verizon a preview of what they can expect, so if you are jealous of the Blackberry Bold you need not be anymore, in a few weeks time the Blackberry Storm 9530 could be yours.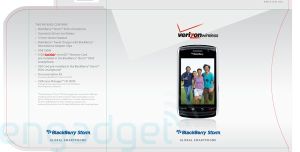 Looking at the box more closely it seems it could be RIM's first venture into the world of touchscreen with the Storm 9530; it includes a SIM card which suggests it will be global, plus an 8GB SanDisk mircoSD card which will be preinstalled.
So, all the talk about the Blackberry being called a Thunder pie in the sky? Apparently not, it seems that this name is being saved for the Blackberry launch on Rogers in Canada as well as Vodafone across the pond.
So we will have to wait and see if this is true, we will also post photos of the Storm 9530 the minute we see sight of them.
Source: engadgetmobile