Chinavision dual band smartphone with projector
What can we say about this new smartphone from chinavision, apart from are they crazy? One thing I never expected to find on a phone was a projector!
Seriously this projector is said to project an image from a distance of up to 5 feet, and the image will be displayed on the wall or wherever you wish at about 32 x 40 inches in size.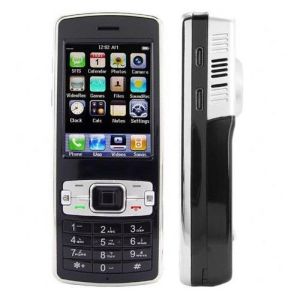 Looking at the smartphone itself, it has MP3 and a MP4 player, has a 1.3-megapixel camera and video recorder, plus a 2.4-inch screen which is a touchscreen.
I think the guys at chinavision have been inspired by a few phones in the mobile world, the dual band smartphone looks like a Nokia from the handset, the interface looks like an iPhone, and as we mentioned they decided that everyone is sure to want a projector on their phone, why wouldn't they? so went straight ahead and included one on the phone.
Looking at the Chinavision website the information just states that it will be available soon, what's the betting this smartphone won't be sold anywhere but China.
Souce: pocket-lint