Samsung Instinct gets bundled and price cut by Future Shop
Seems as if Future Shop in Canada is now following in the footsteps of their over the border brother the US's RadioShack, and is dropping the price of the Samsung Instinct down to CA$119.99.
It may be possible, but this is a pure guess mind; that Future Shop along with Telus who also carry Samsung's all touch-screen beastie, are maybe just a little scared of the "iPhone menace" perhaps.
Whatever the reason, it's good for the consumer and not only has Future Shop dropped the Samsung Instinct's price but has also bundled it with a free Bluetooth headset and a CA$50.00 gift card.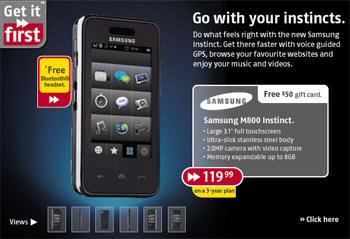 Well that is if you sign up to a three year contract on Telus, you just knew there had to be a slight catch in there somewhere didn't you?
Anyway for all you Canadians out there who are interested in getting the Samsung Instinct now is the time to follow your instincts and grab it.
Source — futureshop via mobilesyrup and intomobile