Verizon BlackBerry Storm pre-launch document leaked
There's been much talk and rumour over the Research In Motion BlackBerry Storm over the past few days, so it won't hurt to throw a little bit more your way. This particular document refers to Verizon Wireless' Pre-Launch Plans for the Verizon BlackBerry Storm.
If you look at the document it isn't a "launch date" as such but probably means a launch for direct marketing of the Verizon BlackBerry Storm to Verizon business customers on the 22nd September and to customers on October 1st.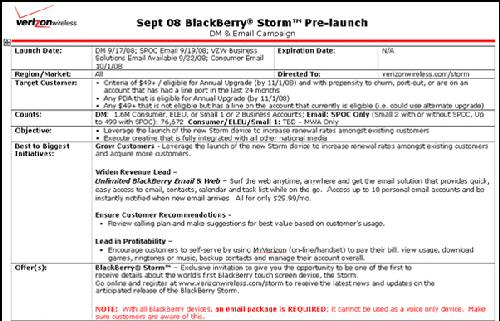 You may notice the "Target Customers November 1st" is listed repeatedly for upgrade eligibility discounts. So this gives further credence to November the 1st being the official launch date for Verizon to bring the BlackBerry Storm to the mobile world.
Source — crackberry