T-Mobile G1 pre-order is closed and now opens again
If you thought you'd wait to pre-order the new Android T-Mobile G1 mobile phone, then you are out of luck as T-Mobile has closed the pre-order window for gaining the G1.
However, if things go as they should go then you should be able to just pop along to your local T-Mobile store and pick up a G1 the old fashioned way around the 22nd of October.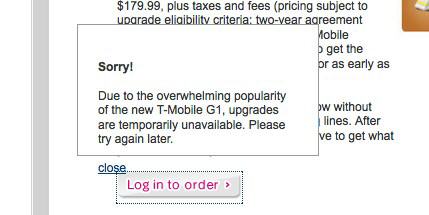 We're not sure just how many G1 handsets T-Mobile had available for pre-order, but the rumour being thrown around is 60,000, which probably works out at about ten percent of the total outlay HTC has said it's aiming for by years end.
Things have changed as when visiting the T-Mobile G1 site, the login button is working again, so I guess T-Mobile managed to get some more, sure was quick though.
Source — Engadget