Nokia Beta Labs release Maps Loader for Apple Mac
Nokia beta labs have announced the beta release of Map Loader for Mac 1.0 which allows the user to load Maps to their mobile phone via their Apple Mac rather than over the air.
Nokia received feedback through the Nokia Multimedia Transfer and one of the most requested was the Map Loader for Mac. Therefore Nokia beta labs produced Map Loader for Mac version 1.0 which is similar to Map Loader for PC but with a Mac look and feel.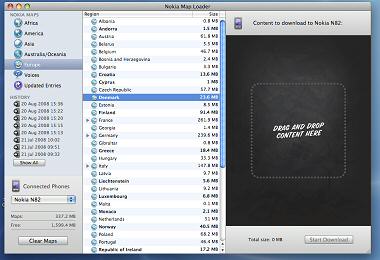 Users will need a memory card instilled on their mobile phone unless they are using a handset like the Nokia N95 8BG which had built-in memory. Then run Maps on your handset and then connect to your Mac via USB, launch the Maps Loader and you can drag and drop various Maps elements to your handset.
Source — Nokia Beta Labs