Mobile Game Press Release: Rocking and Rolling with Katamari
The console classic rolls onto your mobile thanks to Namco Bandai. The King of All Cosmos has accidently knocked all of the stars out of the sky during a crazy night out and it is your job to put the twinkle back in the heavens. From leading global publisher of mobile games, Namco Bandai Networks Europe, Rolling with Katamari is the mobile version of the established PlayStation 2 and XBOX 360 Katamari series of games. Rolling with Katamari brings quirky and strangely addictive gameplay into the palm of your hand.
Re-imagined for mobile, Rolling with Katamari brings brand new gameplay and levels that are optimised for the mobile experience. The game stays true to the cute characters, wacky humour and colourful, fun gameplay of the console series which has built up a global cult following of dedicated Katamari-Rolling enthusiasts.
Playing through over 30 levels in six different game modes, the user must guide the Prince through different areas, collecting various earthly objects that are fantastic enough to be launched into space to replace the fallen stars. As the player improves over time they are able to increase their speed and make the game even more of a challenge.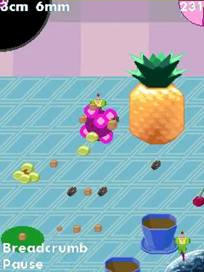 Exclusive to the mobile game is the ability to download additional themed levels, such as My Valentine, Winter Wonderland, Halloween and Down Under, which are free of charge to the user (subject to data charges) and offer more Katamari fun.
Depending on the game mode, the Prince must roll his Katamari over different objects collecting them as he goes. He could collect objects of the same colour, type, or even work against the clock to get his Katamari as big as possible. Objects range from hamburgers and blocks of cheese, to the Eiffel Tower and even the entire state of Florida! Hidden objects and prizes can also be found for an extra bonus points.
Beware of the Cockroaches, Crabs and Cars as they will get in your way and prevent you from rolling the level to completion.
Barry O'Neill, President of Namco Bandai Networks Europe, said "Katamari is one of the most innovative, original games of recent years and I am particularly pleased that it will now be available on mobile. The unique game play, quirky characters and casual nature of the game is what gives it global appeal." O'Neill also commented "With multiple control schemes and direct input on touch screen phones, every player is going to find a way to play, allowing them to enjoy the game no matter what their experience level is or what phone they use."
This brand new game will be available immediately across all major UK operators. Please visit www.namcomobile.com