Palm is looking for Pre reviewers, are you one of them?
Palm has announced they are in the market for a few "real reviewers" probably to get the word out to the masses via social networking and blogging on Palm phones. Now according to mobilecrunch, this would probably be reviewing the Palm Pre, whereby the chosen few would receive a free Palm Pre and 6 months service.
All well and good, sure there are several good people who could blog and network on Palm Phones, but the Palm Pre? Difficult to offer a "real review" on the Palm Pre unless you have your hands on one right?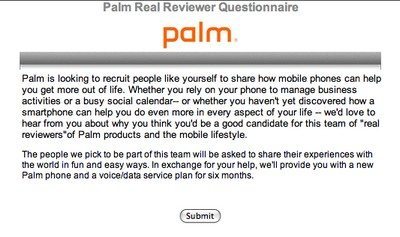 So one can consider the Palm Pre won't be part of this promotion for reviewing, that is unless of course Palm is going to give out a few complimentary ahead of release Pre handset for reviewing, if so, send one our way and we'll review it for you Palm.