New iPhone 2009 Vs Palm Pre: Comparing the Features
The Palm Pre specifications are now officially available for public viewing, but with the hot rumours of a new iPhone on its way fast company has taken a close look and compared the features of both these smartphones.
Original comparison between the two was based on the Palm Pre webOS and what was known of the iPhone OS 3.0, but since then an abundance of rumour has popped up with surprising detail on both hardware and software, some even source within Apple's own code.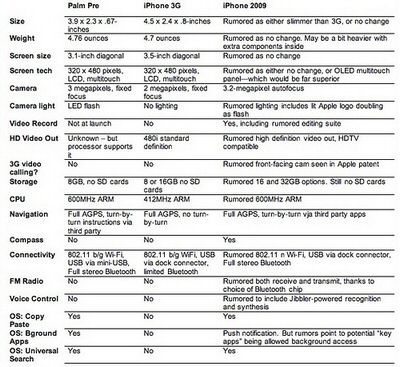 For the looks of the new comparison it does look to be that the Palm Pre is the closest challenger to the throne of the iPhone so far. However, with the arrival of iPhone OS 3.0 features that are missing on the iPhone will be added, and if the new iPhone 2009 comes in at about the same price as the Palm Pre or even lower, the Pre may well struggle.