HTC Hero going Stateside on October the 11th?
According to an article over on engadget mobile, a senior member of xda-developersforums has posted an image showing the proof that the HTC Hero will be launched in the United States on the 11th of October.
Apparently this "senior member" works for a wireless developer company, and although the image could easily be faked it does sound reasonable that the HTC Hero would see launch in the US soon.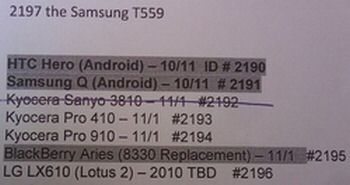 There are a few other phones mentioned in the image for example the Samsung Q, an Android phone which was supposed to be with T-Mobile and Sprint by now, and there is a new LG phone, the LG LX610 Lotus 2 which we've not heard about before.