LG BL40, Samsung Omnia 2 and more for August 23rd
According to an article over on the BGR, the 23rd of August is going to be quite a day for mobile phone lovers as a snapshot of Best Buy's computers shows that several anticipated handset will hit.
According to the snapshot on August the 23rd we will see the LG BL40 Chocolate Touch, the Samsung Rogue, Samsung Omnia 2, Samsung u450 Intensity, and Global AirCard hit Verizon Wireless.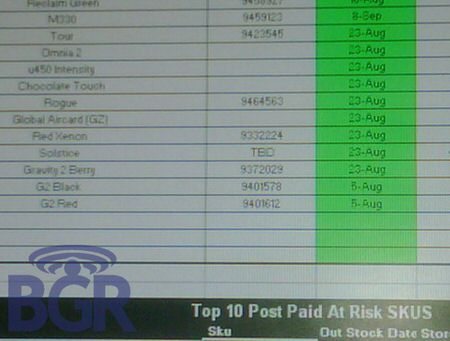 Also on the same day the LG Xenon in red and Samsung Solstice hit AT&T, the Samsung Gravity 2 hits T-Mobile, and the BlackBerry Tour, a new shipment hits Sprint. Also there is mention of the M330 to hit on the 8th of September, although there is no info on that phone.