8GB iPhone 3GS: Does it already exist?
There have been a few rumours of a new 8GB iPhone 3GS doing the rounds on the internet, and today we seem to come a tad closer to believing it is going to happen as Rogers Wireless of Canada post a web page actually listing an 8GB iPhone 3GS confirms engadget mobile.
Does this mean the 8GB iPhone 3GS already exists? The listed price begins with the 16GB iPhone 3GS of course and when you hit the order page the 8GB iPhone 3GS vanishes so obviously it's not up for sale as yet.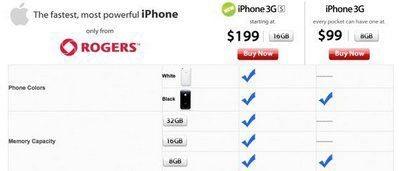 So what do you think, is there an 8GB iPhone 3GS just waiting in the wings, and maybe Rogers is just waiting for the go ahead from Apple?