BlackBerry Pearl 9100 and Pearl 8130 Comparison in Pictures
The guys over at Crackberry have now posted several comparison photos of the new BlackBerry Pearl 9100 smartphone being compared against the BlackBerry Pearl 8130 handset and at first glance they aren't too dissimilar.
But when you take a closer look at the BlackBerry Pearl 9100 the latest Blackberry styling from such RIM handsets as the BlackBerry Bold 9700 and the BlackBerry Storm 2 jumps upon you such as the battery cover like the Storm 2 and the bevelled edge glass and trackpad such as the 9700.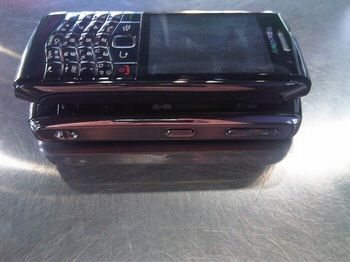 And of course the BlackBerry Pearl 9100 has a sleek narrow form factor which a most fierce looking QWERTY keyboard that really makes the device stand out and above the original BlackBerry Pearl.
Perhaps though now that the handset has changed from trackball to trackpad the guys suggest maybe it's time to change the Pearl name to a manlier moniker, what do you reckon?