Samsung S8500 Wave gets Pictured
It is anticipated that during Mobile World Congress 2010 in Barcelona, Samsung will showcase their first mobile phone featuring their new smartphone operating system Bada, the Samsung S8500 Wave.
Well just before MWC 2010 kicks off we get treated to several picture of the Samsung S8500 Wave courtesy of the guys over at daily mobile, along with some handset specifications which are as follows…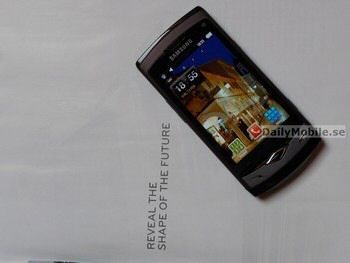 The Samsung S8500 Wave packs a 3.3 inch AMOLED screen, which is presumed Samsung's new Super AMOLED, HSDPA, 5 megapixel camera with auto-focus and flash, 720p video recording, 802.11b/g/n WiFi, 1GHz processor, TouchWiz 3.0 UI, 3.1mm jack and microSD expansion.
The Samsung S850 Wave is tempered glass with an aluminium body and measures 10.9mm thick, although these specifications have yet to be confirmed.