Byline 3.0 iPhone App Update: Google Reader Gains Gesture Navigation
Thanks to a press release sent to us via email we have some very good information about the Byline 3.0 iPhone App, Byline 3 will replace the annoying fiddly buttons with an intuitive swipe gesture to navigate between items, basically the Google Reader gains gesture navigation.
There are other improvements as well such as integration with Twitter, Instapaper, and Read It Later, automatic caching for offline browsing and statistical analysis to detect and cache complete web pages for feeds with truncated content.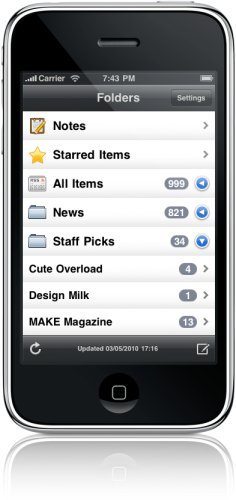 Byline main features include: starred items, notes and folders with a free Google Reader account, synchronizes up to 1000 new items, new edit mode allows starring items and marking read/unread in bulk, Byline provides offline access to all articles and so much more.
This will work with the iPhone, iPod touch, and iPad and requires iPhone OS 3.0 or later and 0.4 MB of space. Byline 3.0 is $3.99 USD and can be downloaded via iTunes. For more information please visit Byline 3.0 Website.