iPhone Clone Meizu M9 Gets Pictured with Android
It appears that the CEO of Meizu, Huang Zhang wants everyone to know about their iPhone clone the Meizu M9 smartphone, and has thus posted a couple of low resolution images of the Meizu M9 under the forum name of J. Wong although apparently the thread has now been deleted.
An article posted by Electronista, by way of Meizume, says that the posting of the Meizu M9 images whilst being somewhat blurry and doesn't show the smartphones façade clearly, it does appear to confirm Meizu's move to the Android platform for their iPhone clone devices.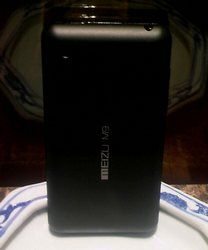 Basically there isn't a great deal to be gleaned from the posted images of the Meizu M9 other than it appears to be a solid black matte finish with Meizu M9 branding and rounded surfaces, but does look a tad different to earlier snaps of the device.
Still no word from Meizu on official specs, launch date or any pricing but word has it the Meizu M9 will sport Android 2.1, a 5 megapixel camera, a 1GHz processor and support for all 3G Chinese networks.