iPhone 4 Accessories: Little Black Book Case
Now here's an unusual iPhone 4 case that offers somewhat of a nostalgic feel. It's called the Little Black Book, and looks a whole lot more pleasing on the eye than the Apple bumper case which Apple is giving away to resolve the iPhone 4 antenna issue.
The Little Black Book iPhone 4 case is brought to our attention by an article by Rosa Golijan over on Gizmodo, and not only does the Little Back Book case offer some protection for your iPhone 4, and solve the antenna issue as you don't have to put your fingers anywhere near the weak spot, it also disguises the device from would-be thieves.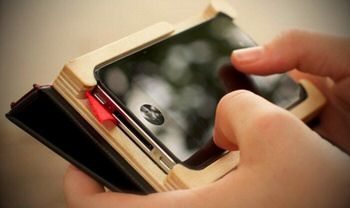 The Little Black Book for iPhone 4 is made of hand-crafted wood covered in black leather and features a wrap around strap and even includes a classic red bookmark.
For bringing a touch of nostalgia to your iPhone 4 the Little Black Book case can be purchased from Pad and Quill at an introductory price of $39.99 with a 2 week delivery.