Android LG B Confirmed: Thinner than iPhone 4
Well now what do we have here, why it's a new smartphone from Optimus range maker LG which sports a rather uninspiring codename of 'B' and has been photographed in the wild alongside the Apple iPhone 4 and the Android Samsung Galaxy S.
According to an article over on Engadget by Chris Ziegler the guys over at Phandroid received the shot which shows that the LG 'B' handset has a somewhat brighter screen than the iconic iPhone 4 and Samsung Galaxy S and apparently offers 700 nits brightness which apparently is a 40 percent improvement over the Samsung Galaxy S smartphone.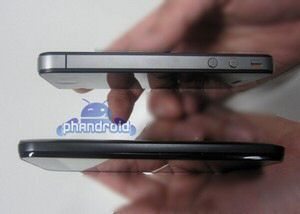 However according to the Phandroid article, up until now the slimmest device in the mobile arena was the iPhone 4, that is without its cumbersome thickness adding bumper case of course, but judging from the image they have the LG 'B' looks to be even slimmer than Apple's darling device.
Up until now LG have kept the 'B' device under their hats however as the images have escaped into the net space LG decided to come clean and confirm the LG 'B' via Twitter and tweeted… "seein is belivin! The Super slim & super bright "LG B" Android phone. Come to #CES #CES11 and see with your own eyes!! http://t.co/PGaLDAx"
So it's looking like Apple and the iPhone 4 can no longer make the claim than the iPhone 4 is the slimmest smartphone in the mobile space.