Android IP Video Phone to Debut at CES 2011
Apparently there will be a new Android device making an appearance at CES 2011 from a company known as SBN Tech and the device will be a video phone that runs the Android operating system, although apparently this new phone has features that are more associated with a tablet.
According to an article over on Slash Gear by Shane McGlaun, and by way of Android Community, and Aving, the SBN Tech IP video phone will sort a 10.1 inch display with a 1024 x 600 resolution, plays nice with such mobile apps as Skype, Facebook, Twitter, Picasa and Think-Free Office.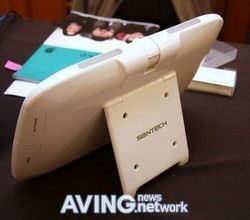 The SBN Tech IP video phone will also sport either a CCD VGA or CMOs camera for two-way video chat, has an SD card slot, can play HD media and features a kickstand.
Apparently it is known which version of the Android operating system the IP video phone will pack but the firm does stipulate Android 2x, unfortunately there is currently no word on when the IP video phone will become available or what price it may command.