T-Mobile LG G-Slate Detailed and Pictured
We've already seen a couple of glimpses of the new Android toting LG G-Slate in two videos, but up until now we haven't hand any real decent shots or details on the device; however that has now all changed as T-Mobile gets all officially with the tablet.
According to an article over on Engadget by Chris Ziegler, T-Mobile has come across with some new specs for the LG G-Slate and confirming the tablet will come packing a dual-core 1GHz Tegra 2 processor along with accelerometer and gyroscope and 32GB storage.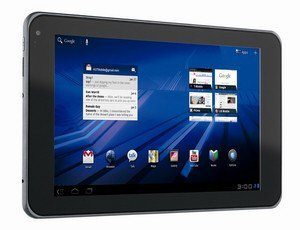 Now word on the camera, the LG G-Slate features rear facing stereoscopic 1080p 3D videos cameras of which one can also act as a 5 megapixel stills snapper with LED flash, and if that isn't enough there's also a front facing 2 megapixel camera.
The T-Mobile LG G-Slate also runs Android 3.0 Honeycomb OS, adaptive lighting and Adobe Flash support, supports 720p HD video playback and HDMI out and of course that 8.9 inch HD3D capable multi-touch display.
According to T-Mobile, the LG G-Slate is expected to become available sometime in spring; however apparently according to Yahoo! News, LG is saying March for the US, although at the moment there's no hint of what the tablet will hit your wallet for.
So now that the specifications are all official and expected around springtime, has the LG G-Slate captured the eye of any of our readers, or are you holding out for the Apple iPad 2? Feel free to let us know by posting us a comment below.