Valentines Day 2011: 5 Love Apps for BlackBerry
As you know, the most romantic time of year is of course February the 14th, Valentine's Day, a time for lovers everywhere in the world and we have already posted several Valentine's Day apps for iOS devices along with our pick of Valentine's Day gift smartphones, so how about BlackBerry?
Well the guys over at Nation Multimedia have come up with a list of 5 Valentine's apps for your BlackBerry smartphone, so we though to be fair we'd pass them along for your considerations, so here they are…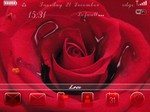 First up is an app simply called "Love", which is a love themed application for BlackBerry handsets with a rose background to deliver that special valentines touch to your device. The "Love" app for BlackBerry can be downloaded from BlackBerry App World at a cost of $1.99.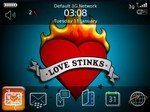 Next up is the Animated Love Stinks app which is basically for those that don't quite like Valentine's Day and would like to show it stinks by using this animated app to let others know what they think of the holiday. The Animated Love Stinks app costs a hefty $5.99 from BlackBerry App World and seems to me to be a tad expansive just so you can express a downer on Valentines.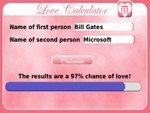 Then we have the Love Calculator app, which is a fun app that enabled the user to calculate their chances of love happening betwixt two individuals. The user enters two names of the people they think should get it on and the app calculates their chances. The Love Calculator app can be downloaded to your chosen BlackBerry device from BlackBerry App World for just $0.99.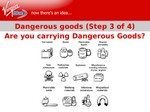 Almost there we have the Virgin Blue Travel app, just in case you have to travel to see your lover this Valentine's Day and enables the user to book and manage your Virgin Blue Airlines flight right from your BlackBerry smartphone so you can make sure you are on time for that romantic dinner date. The Virgin Blue Travel app is a free download via BlackBerry App World.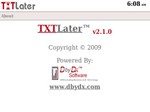 Lastly we have the TXTLater app and application that allows the user to schedule emails, SMS, and calls for a future date, so you don't make he dreaded mistake of forgetting to text, call, or email your valentine on that special day. TXTLater is a free download to your BlackBerry device via BlackBerry App World.
So there you have it 5 BlackBerry apps that could help you this Valentine's Day to make your rendezvous extra special. Of course if you have your own favourite BlackBerry app for Valentine's day feel free to let us know.