HTC Thunderbolt Price with Best Buy Confusion
The upcoming HTC Thunderbolt price is causing a little confusion at the moment and in that we mean with Best Buy, we have seen two different prices for the same smartphone with the same online store.
If you look at screenshot images below one of them says that the HTC Thunderbolt is $299.99 and the other one says $249.99, the first image below is a screenshot we did and the second one is via BGR.
Now we know that Verizon Wireless is going to sell it for the higher price of $299.99 so how true is it that Best Buy separate flyer dated Sunday, February 20th shows it will be selling on its online store for only $249.99. Time for a little digging as they say and that is what we will do.
The HTC Thunderbolt with its 4.3-inch touchscreen, 8-megapixel camera and 4G LTE connectivity plus its front-facing camera will be very popular indeed.
We gave you some news on Feb. 19 mentioning about the HTC Thunderbolt delay and that got a few responses, there have been many dates for its release like Feb 24 then there was another date of Feb. 28, one of our commenter's said:
First Screenshot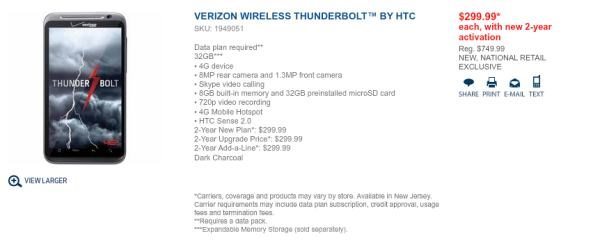 I'm a third party agent, and I recently got confirmation that we're getting the thunderbolt on the 23rd for a 24th launch, looks promising. Keep in mind verizon hasn't actually given any of these speculative dates, we simply chose to base our hate and impatience on "sources close to the matter"
Second Screenshot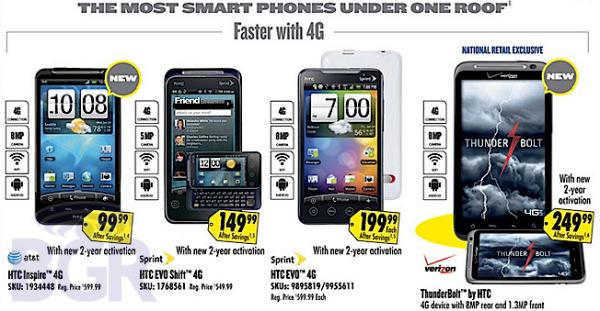 If you would like to post your comment please do so below in the area provided, your comments are important to us and of course other readers.