Motorola 4G Atrix AT&T Nice Price with Amazon
The Motorola 4G Atrix with AT&T is now on sale with Amazon and you can save yourself a further $50 that takes the price down to only $149.99.
When you visit Amazon you will not see the low price, you will see the high price strike out at $699. To get the Motorola Atrix you will have to click the link that says "Go to AmazonWireless.com to see price", then go through the options on the right of this page.
If you buy from Amazon you will get a free two day shipping, looks like they are not offering the laptop dock bundle but we will keep our eyes open on this one. According to Wireless Goodness they say you do not want this bundle anyway.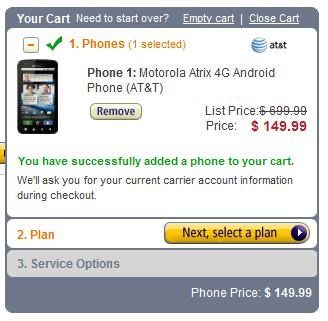 Main features include a 4-inch qHD display, NVIDIA Tegra 2 dual-core processor, mobile hotpsot, 5 megapixel camera with auto-focus and LED flash and 720p video capture, front facing camera, HTML and Flash support, built-in social networking for FaceBook, MySpace and support for Twitter, A-GPS, 16GB storage, microSD expansion up to 32GB, WiFi, Bluetooth, HDMI, DNLA and 3.5mm jack and runs Android 2.2 Froyo.
Please do let us know if you buy the Motorola 4G Atrix AT&T via Amazon as this helps us what the popular online stores are, thank you.