HTC Thunderbolt Verizon Price Expensive & Release Pending
The HTC Thunderbolt has caused a lot of stir of late surrounding the release date, well now we can report on the price point that some may find to be a little too expensive.
The release date pending, which hopefully will be March 4th if all goes to plan has annoyed many customers seeing as dates like the 24th then the 28th of February was suggested, now we would love to know what you think of the HTC Thunderbolt Verizon price.
Now we have visited HTC website and put a few Zip codes and and no prices have shown up for us, but Phandroid has a screenshot of the price (Image shown below).
The HTC store is showing a price of $699.99, now we would love to know if this price is expensive or it is indeed a price you would pay for the HTC Thunderbolt. Please do let us know when you visit Verizon Wireless or HTC if when you enter your Zip Code if a price shows up for you.
If the HTC Thunderbolt price is $699.99 would you buy it or still steer towards the iPhone 4? All comments welcomed below, thanks. If you would like to discuss anything to do with this smartphone please visit our discussions page.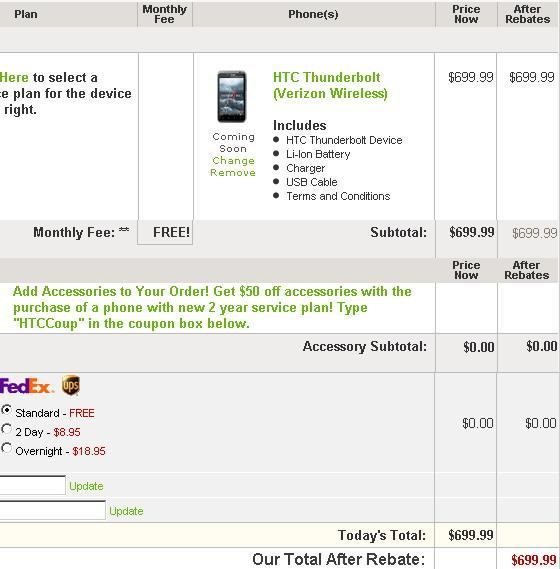 Source — UnwiredView via UberGizmo