Turn Your iPhone 4 Transparent With This Kit
Now personally I'm not one for having gadget innards on display, but there are those out there that like showing off what their tech gadget looks like inside, and apparently now if you own an iPhone 4 you can do this to your iOS device.
According to an article over on 9to5 Mac, a Chinese accessory maker is offering a transparency kit to turn your beloved iPhone into a show off everything smartphone by replacing the glass panels with transparent ones.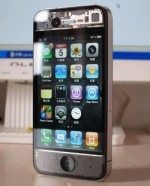 However, there are a couple of possible downsides to turning your iPhone 4 into an artistic looking smartphone, one the transparent panels probably wont sport Gorilla Glass toughness and two, the transparent panels will no doubt leak in light when you go to take that all important picture.
But if you want to go the transparent route with your iPhone 4 apparently you can now purchase all the necessary by hitting up M.I.C Gadgets where the kit costs $23.90.
So if any of our readers take advantage and decide to turn their iPhone 4 into a transparent version, feel free to let us know how you get on and if there are any drawbacks.