Oil and Gas Price App: Includes Gold & Silver Prices
If you would like to track oil, gas, gold and silver prices then the 'BlackGold' free iOS app is something worth considering for download.
BlackGold is a great application for Apple devices that tracks the price of crude oil, gas, gold and silver, as we know the prices of oil and gas is getting very expensive and will continue to rise especially with the problems in Libya at the moment and this app will help you keep an eye on things.
The stock and future markets needs your close eye as fluctuations in recent years has been alarming, this app keeps you informed of current prices at all times.
Main iOS App Features Include: Crude Oil WTI Current Price, Gasoline Regular, Mid, Premium, Diesel, E85. (US National Average provided by AAA), it also features Gold Troy Oz Current Price including seven charts, Natural Gas Current Price including intraday chart and Heating Oil Current Price including intraday chart.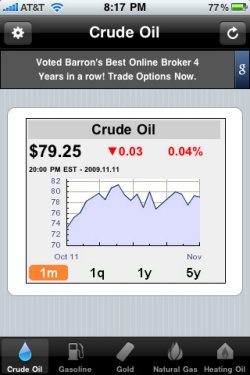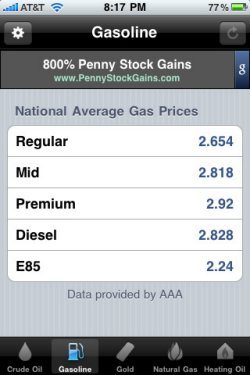 Version 4.0 of BlackGold Features: Updated User Interface, Larger Basic Charts, Silver tracking, Chart Controls for Basic charts, Customizable UI, Full-Screen Technical Analysis charts, Brent Crude tracking, State-by-State gasoline tracking and Set a specific State as your default, plus so much more.
For more information on the free BlackGold app please visit iTunes, as usual we always ask if you could send in your personal reviews if you already have this application installed on your device.