LG Prada 3.0 vs Motorola Droid RAZR Maxx
The age of the fashion phone has arguably passed, although modern handsets tend to integrate elements of high-end style in order to attract the eye of the casual user. A few years ago the original LG Prada and Motorola RAZR handsets were two sides of the same coin, competing for fans based on their looks. In 2012 there are two new iterations of these handsets to choose between, but which is the best for you?
The LG Prada 3.0 features a large 4.3-inch touchscreen display and a slender chassis, with the battery cover coated in a textured layer, which is reminiscent of, but not actually made from, a high quality fabric material. The phone is surprisingly large and there is plenty of Prada branding scattered around, but its innate thinness makes it relatively easy to slip into a bag or pocket. Those with smaller hands might find themselves gripping it with both mitts in order to keep it in check.
The hardware of the Prada 3.0 is suitably powerful as it has a 1GHz dual core processor, 1GB of RAM and a skinned version of the Android 2.3 operating system, which gives it a uniquely stylish and appropriately minimalist look that the fashion conscious are sure to enjoy.
LG Prada 3.0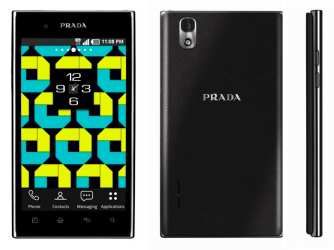 An eight megapixel primary camera with an LED flash is found on the rear of the Prada 3.0 and there is a secondary snapper above the display, which will let you make video calls. Connectivity comes in for form of Wi-Fi and 3G along with GPS, Bluetooth and even NFC for contactless payments. Since this is an LG smartphone you also get DNLA for wireless media streaming.
The Motorola Droid RAZR Maxx is an enhanced edition of 2011`s Droid RAZR, with the Maxx suffix indicating that it has been given a considerably larger battery to help improve the amount of time between each charge.
While the LG`s 8.5mm thickness is slightly slimmer than the Motorola's 8.99mm waistline, these are two very light, thin smartphones which definitely have good-looking external features. The Droid RAZR Maxx shares the same 4.3-inch display area as the Prada 3.0, but with Super AMOLED screen technology onboard it is able to deliver richer colours and improved contrast levels to act as a treat for the eyes.
Motorola Droid RAZR Maxx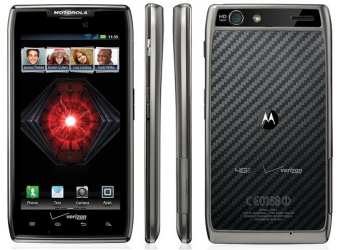 The Droid RAZR Maxx will really appeal to anyone who is tired of having to charge his or her smartphone every day, perhaps even before the sun has set. Its 3300mAh battery is twice the size of most of its rivals and this extra capacity lets you talk for 21 hours continuously and make the most out of the Android 2.3 operating system without always having to take your charger with you wherever you go.
Both of these handsets have supermodel good looks and well deployed hardware, which means it is probably going to be the price of smartphone deals which determines your choice.