Best 5 Griffin Technology new iPad cases
As you no doubt know, the latest iOS tablet is due release as of Friday this week, and if you are one of the many waiting on the new iPad to arrive, when it does you'll probably want to keep the slate in its original pristine condition, and thus there are numerous cases now available ahead of that release.
And so what we have for your consideration below is five of the best cases for the new iPad from Griffin Technology, and hopefully one will suit your requirements, so here are those five cases for the new iPad…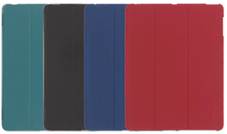 First up we have the Griffin IntelliCase, a case that incorporates polycarbonate to protect the rear of your iOS slate, along with a TPU protection cover for the touch screen, and features hidden magnets that auto-wake the tablet when opening and puts it to sleep when closed.
The Griffin IntelliCase also folds into a two-position work stand offering upright or inclined position for optimum typing and viewing angles, and is available in five colours, black, white, dark red, midnight, peacock, and can be purchase for £39.99 from Tesco.

Then there is the Griffin Elan Folio, a classic single piece folio style case that flips open for easy access to the touch screen, whilst folding to deliver landscape or portrait positioning and giving access to all controls and posts.
The Elan Folio is part of a collection that includes Elan Folio Cabana, a vibrant red or teal with tan stripes, the Elan Folio Crackled with the aged look of cracked paint, the Elan Folio Aged, a canvas with worn leather accents, the Elan Folio Big Cat, with leopard print back and red lining, the Elan Folio Armor, is a black case with a metallic armoured panel, and the Elan Folio Woven in dusk with aged leather and camel plated woven panel with cream suede lining and are available from John Lewis for £34.99.

Next up is the Survivor Military-Duty case, and Griffin's most protective case for the new iPad that has been designed to meet the US military standard 810F, and is manufactured with a shatter resistant polycarbonate frame covered in rugged shock absorbent silicone.
The Survivor Military-Duty case protects your new iPad from rain, shock, dirt, sand, vibration and much more and is available in black or pink and commands a price tag of £54.99 from Tesco.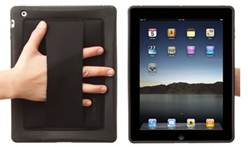 Then we have the Griffin AirStrap case, a case that incorporates a wide neoprene strap to the rear of the tablet that can accommodate the hand allowing viewing more secure and easier whilst leaving your other hand free for typing.
The Griffin AirStrap case features a thick moulded frame with easy to grip contoured edges that combines reliable protection with functionality and is available in black from Griffin Technology for £29.99.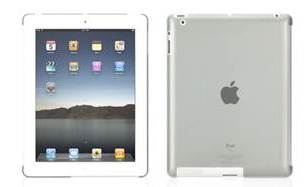 Lastly we have the Griffin Outfit case, a durable hardwearing polycarbonate shell with a super slim design that snaps onto the rear of the new iPad to protect from dents and scrapes whilst allowing access to all controls and ports.
The Griffin Outfit case for the new iPad also works with the Apple Smart Cover and is available in clear or smoke colours commanding a price tag of £9.99 from Tesco.