WWDC 2012 banners hint at iOS 6 but no iPhone 5: Update
We are only a couple of days away now from the annual WWDC event in San Francisco where historically Apple has showcased its latest iPhone, but that all changed last year and even though it is thought the same situation will occur this year some may be hoping that we will see a new iPhone. Today we have news of some more WWDC 2012 banners going up that hint at iOS 6 among other things, but no iPhone 5.
A few days ago the first banners started going up at the events location advertising this year's event, but now as AppleInsider is reporting more are going up advertising some of the things we will see over the next few days. Last year the late Steve Jobs introduced Apple fans to a new version of iOS, iCloud, and OS X with the company seemingly building on the same content this year.
An iOS 6 banner has been seen with the message of "the world's most advanced mobile operating system", while the OS X banner without the word 'Mac' is being advertised as "the world's most advanced desktop operating system".
The iCloud banner just has the services icon and other banners that have been spotted on other floors are advertising AirPlay that made its debut in iOS 5, and this is expected to be included in OS X 10.8 Mountain Lion this year. This annual event is aimed at iOS and OS X developers but over the years Apple also used it to showcase new products, until last year where no new iPhone device was seen until October.
The new iOS 6 operating system is expected to bring Apple's own in house mapping system that will reportedly replace Google Maps, and is thought to support 3D imagery. While Apple may not be advertising the fact that the iPhone 5 is coming next week, it is pretty obvious even if it were they wouldn't advertise the fact in advance.
Apple has historically operated in a clock and dagger way leading up to new product launches, and in the past they have pulled out some surprises. So while it is doubtful we will see the iPhone 5 next week, with Apple you never know. Update: The guys over at 9To5 Mac have an image that can be seen below of an iOS 6 banner that shows a new logo with the words "The world's most advanced mobile operating system".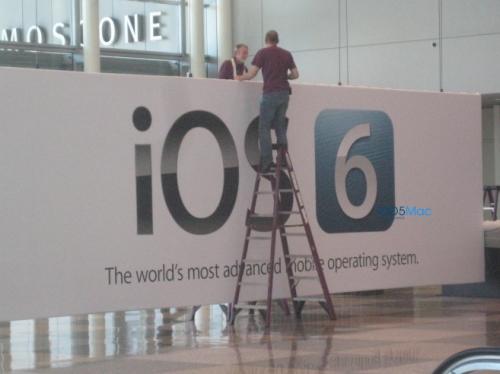 Do you think the iPhone 5 will be revealed later in the year or next week?