Save RIM with Android BlackBerry Elegance & BB Windows Phone
As we all know RIM is under a lot of strain at the moment, especially as the latest news reports that the BlackBerry makers have to pay $147.2 million in damages after being found liable for infringing patents held by Mformation Technologies.
RIM really needs to think out of the box if they want to stay ahead of the game, and seeing as BB10 will not be making its appearance anytime soon they should really think hard about bringing new smartphones to the table, ones that are on other operating systems, so here are two that RIM should think about making reality.
First up is the BlackBerry Windows Phone that runs on WP8, yes this is only a concept but think about the possibilities if it was to be released to customers. If Microsoft bought RIM is this what we could expect for future BlackBerry releases? This BlackBerry WP Concept is by Michal Bonikowski and offers a full touchscreen with capacitive buttons at the bottom, it also features a stunning camera integration on the back as well as a thin design, not to sure what the camera is but could possibly be a 5MP and could handle a 1.2 GHz dual core processor and a qHD screen. LTE would be a good feature to think about, how about Xbox gaming accompanied with the BBM action button.
Another handset worth thinking about for reality instead of a concept is the cool looking BlackBerry Elegance by Bob Freking. This concept comes with a custom UI called Berry UI as well as Android; Android operating system would be a good move for RIM to bump smartphone sales for the mobile sector.
Other BlackBerry Elegance features include many widgets that look like BB OS, UI modifications, 3-inch screen with a 480 x 640 pixel resolution, 1080p video capture, 266 ppi density, dual core Snapdragon S4 processor, 8-megapixel camera, QWERTY keyboard, BlackBerry button and even a virtual keyboard.
BlackBerry Elegance Android Phone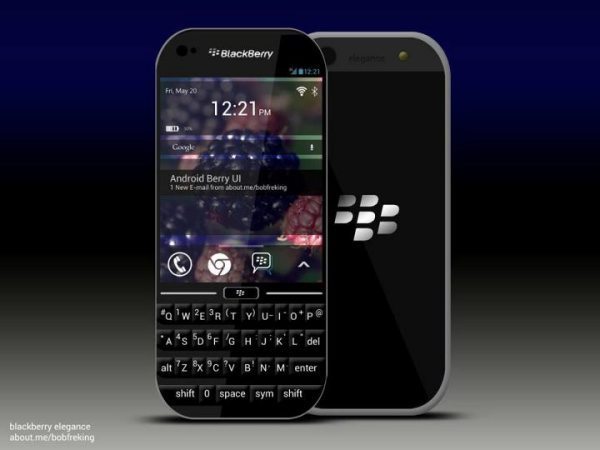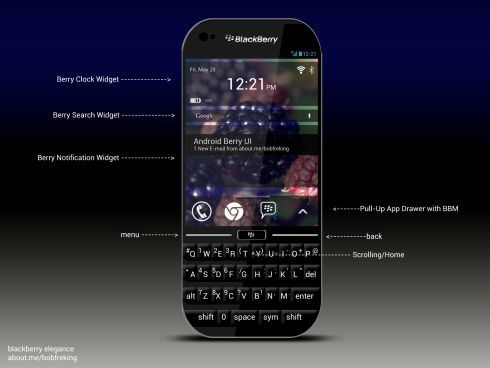 BlackBerry Windows Phone