BlackBerry 10 Dev Alpha B leaked with hardware bump
A new leak of the BlackBerry 10 Dev Alpha B phone has been spotted online and this time round it apparently comes with a hardware bump, below you will see a new rendering and it looks very interesting indeed.
This is most definitely sure to pique an interest to a few RIM fans, this model looks a little different to the one that was first given out, we have already reported on the specs and trade ups as well as some names such as Nevada, Winchester2 LTE, Winchester2 HSPA+, Winchester2 LTE HSPA+, Colt, London, Blackforest, Nashville and Naples.
We all know that RIM like to have multiple versions of internal dev devices, RIM has pulled the image shown below for some unknown reason, but this has not thwarted a few seeing the rendering asking questions about it. If we visit BerryReview they have a couple of Tweets via @NerdBoss514, where one says there will be a minor hardware bump made to the Dev Alpha model in what it calls a "normal part of any pre-release program. This was then followed by another tweet saying the layout for some of the components like micro SIM placement has changed for sure.
So this means that there will be a BlackBerry 10 Dev Alpha B device, whilst developers continue with its plans with the new BlackBerry 10 OS. The current Dev Alpha unit features a 4.2-inch 1280 x 768 pixels display, 16GB of internal storage, 1GB RAM, dual-core ARM Cortex-A9 processor or possibly better and a microSD card slot.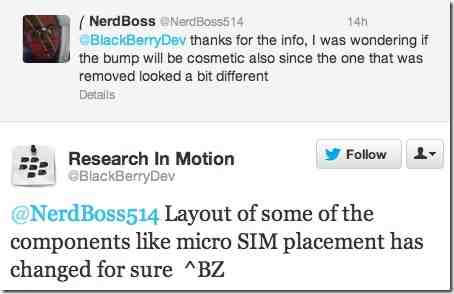 It has been confirmed that RIM will be giving away BlackBerry 10 Dev Alpha B devices to developers prior to the BlackBerry 10 operating system. Just a reminder that the BlackBerry 10 Jam World Tour in-house developer event will kick of September 25th and ends on the 27th.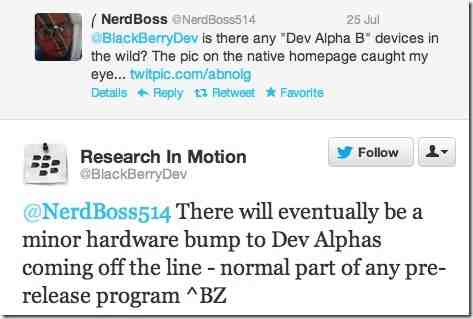 What will the final production model look like? Time to get your thinking caps on. More information via CrackBerry