New iPhone 5 iOS 6 smartphone boasting 5-inch display
The new Apple iPhone 5 is one of the most anticipated upcoming smartphones of the year, and everyone is talking about it so much where ever you look there is some sort of news about the handset. Today is yet another one of those days because there is a photo showing edge-to-edge 5-inch display, at this size it is close to becoming a phablet with Retina display, but this is going to be a very sexy resolution that will add the iOS 6 credibility factor.
Sorry to burst your bubble if you thought this was real but thanks to TheTechnoToast via Deviantart this is just a concept, and a very good one at that. Apple please take note and come up with this design, we think it is simple but stunning at the same time.
A 5-inch new iPhone 5 is well worth thinking about, all those in the Android corner swear by bigger screens, such as the ones found on the Galaxy Note or the Samsung Galaxy S3. If you look at the photo below you will notice that it has no bezel chassis, which means you get edge-to-edge display.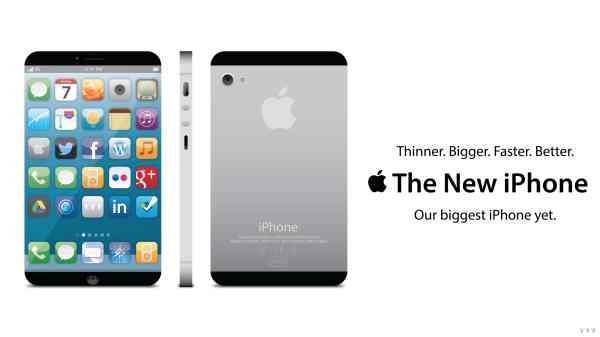 This new iPhone concept comes with a microSD card slot and runs iOS 6, the most noticeable other than the screen size is that this handset features 5 rows of apps, 5 across and 5 down equalling to 25 on one page, 30 included the standards ones at the bottom. Just imagine if this was the final design, and with the specs mentioned above as well as Apple Maps, fully activated Siri and a bigger camera we know this is the case of customers screaming out "BUY ME".
Getting back to reality, the iPhone 5 is expected to be revealed at an event on September 12, and AT&T is reporting that the new iPhone will release in the latter half of September. We have already reported about the motherboard & antenna connections. We have talked a lot about the iPhone 5 and covered news such as the iPhone 5 instigates price deals & connector reveal, as well as the parts and images surfacing online.
We will finish off by asking you to have your say in the comments box provided below, as soon as we hear about the really and official iPhone 5 we will let you know.
Source – Concept Phones