Celebrate Julia Child with French cooking app
We always enjoy bringing readers news of Google Doodles, the special feature that sometimes crops up on the Google home page, usually to mark an occasion or honor a person. Today the eagle-eyed among you may have already spotted a Google Doodle tribute to Julia Child on what would have been her 100th birthday and with that in mind we thought you may be interested in celebrating Julia Child with a French cooking app.
The Google Doodle shows a smiling portrait of Julia Child amidst the usual humdrum of a busy kitchen. The American chef and author was much celebrated in her lifetime and remains an inspiration to many in the world of cookery and was famed for bringing French cookery to an American audience. Now there's a great new app available from the App Store that will enable established fans and newcomers to Julia Child to enjoy French Cooking the Julia Child way. What's more, because it's a celebration of Julia Child's 100th birthday the app is available at a special price of $2.99 throughout the rest of August.
The iOS app is called Mastering the Art of French Cooking: Selected Recipes in honor of her debut cookbook and it's compatible for iPads running iOS 4.0 or later. It's available from iTunes here. There are 32 recipes included on the app and showing them on the iPad is a great way of enjoying this essential repertoire of French dishes. Techniques are explained carefully as well as finding the right ingredients (or substitutes) and planning meals, as well as glorious color photos showing what the dishes should look like at the end.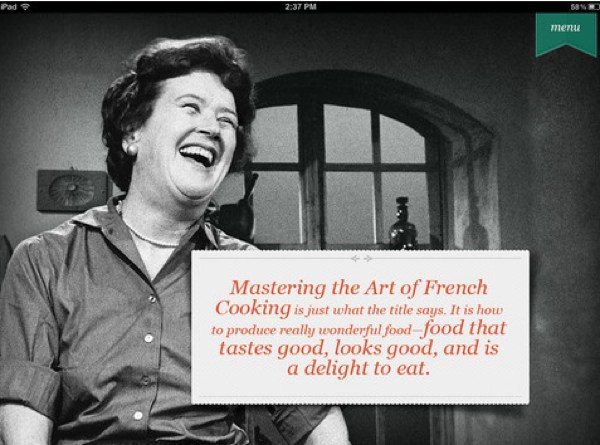 There are also some lovely anecdotes about the late Julia Child, as recalled by her longtime editor Judith Jones and help with the pronunciation of French terms. Thirty video clips are also included of Julia Child herself taken from her Way to Cook video series so that you can see the great lady at her best. The app also includes the ability to share on Facebook, grocery lists and resource information on items such as kitchen equipment, wines, stocks, cutting and more.
This seems like a great app that will give the user a great taste of what Julia Child was all about and really immerse you as you learn to cook the recipes and have fun at the same time. Will you download this app from iTunes? If you do perhaps you could share your thoughts on it with our readers by sending your comments.