Mini Cooper S Bluetooth Smartphone Controlled Car by BeeWi
If you are one that loves boys toys such as remote controlled cars, and like to control the car remotely via your smartphone, whether you are on the iOS platform, Nokia platform, or Android platform, you might like to know that wireless accessory maker, BeeWi have now announce their first Bluetooth controller RC car, the Mini Cooper S, and you don't require a dongle to control the car as you can download the app for your respective platform to pair via Bluetooth.
With the BeeWi Mini Cooper S and free mobile app that can be used on your smartphone or tablet to enable you to turn your office, kitchen, living room or anywhere else into a Mini Cooper S race track and race the remote controlled vehicle for hours of fun, and the mobile apps pair with the Mini Cooper S over Bluetooth 2.1.
Using the BeeWi control pad app the users gains fully directional steering so you can dive the car in all directions, and features both beginners and expert modes so you can work your way up from being a novice to an expert at driving the Mini Cooper S, which is available for both Android and iOS platforms from John Lewis for £49.99 and from Argos for £39.99.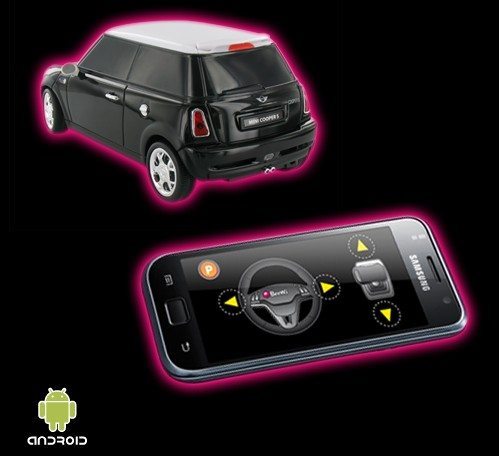 The BeeWi Mini Cooper S is available for Android in black whilst those that are on the iOS platform there is a classic red BeeWi Mini Cooper S available. Whilst mobile apps for the device can be downloaded from iTunes, Nokia Ovi, and Google Play.
And for those older kids that might be contemplating snapping up the BeeWi Mini Cooper S remote control car, we have a promo video for your viewing consideration below so you can see the Mini in action.