Wild Blood game for iOS and Android video released
If you are a gamer on the iOS or Android platform that enjoys a nice bit of cut and slash, sword and sorcery gaming, you might like to know that Gameloft has now put out the first gameplay video trailer for their upcoming iOS and Android game Wild Blood, which is of course Gameloft's first game using the Unreal Engine, and yes we have that gameplay video for your viewing pleasure below.
The Wild Blood gameplay video comes our way courtesy of the guys over at Droid-life and by way of Gameloft's Facebook page, and runs for only 51-seconds, but you can tell from the footage that the story seems to centre around a powerful warrior whose main job is to annihilate as many opponents as possible using a very big sword, axes, a bow, and a couple of humongous magical hammers.
Apparently in Wild Blood there are some huge boss characters to battle as the gamer fights their way through the game, but as the player is given vast knowledge of sword and sorcery along the way, those bosses shouldn't cause the avid gamer too much trouble.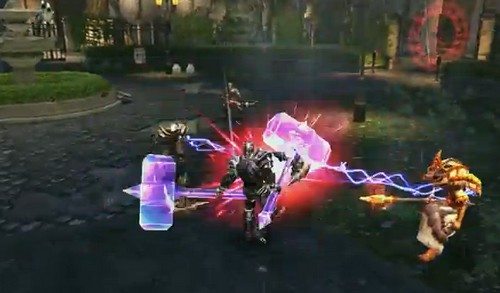 Unfortunately though, as to just when Wild Blood will become available for the iPhone, Apple iPad and Android devices, it appears Gameloft wants to keep everyone guessing for now as all they say is the game will be coming soon.
That's about it for now, all you need do is head on down to hit that play button so you can check out the Wild Blood action, and then please do let us know if you will be hitting up iTunes or Google Play to grab Wild Blood as soon as it becomes available…enjoy.