Remembering magicJack app for free calls
We thought we'd take a little step back in time today to remind the iOS user of a mobile app that has been out for quite some time on the iOS platform, and that app is called magicJack, an iOS app that enables users to make free calls to United States and Canadian numbers or any magicJack number anywhere in the world.
So just in case you aren't already using the magicJack iOS app, here a little reminder of what the application offers the user, the mobile magicJack app for the iPhone will never use your minutes, it does not require a voice plan, and is 100 percent free.
The magicJack app for iOS enables the user to make outgoing call to USA and Canadian landlines and mobile phone numbers, and any magicJack number, and using a magicJack phone number enables the user to make and receive free calls and get free voicemail.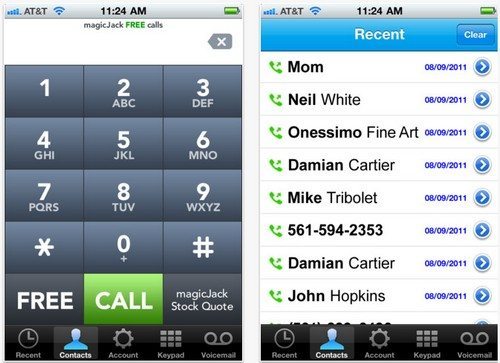 When you sign up for a magicJack account you are given a magicJack number, with all magicJack numbers starting and ending in an asterisk/star, for example *12345677* which can be dialled from any magicJack, and of course you can used your iPhone stored contacts with the magicJack app.
So there you have it a quick reminder of what the magicJack app for iOS is all about, and if you aren't already using the magicJack app you can garb the application for free by hitting up iTunes.
We'd love to know if any of our readers are still using the magicJack app on their iPhone, or if not is the app something you would consider using? Feel free to let us know by dropping a line to our comments area below.