Samsung Galaxy Note 2 vs LG Intuition specs
The Samsung Galaxy Note 2 is only a few days away now from being officially announced and the excitement is running through thousands of consumers veins, there have been many details released already about this smartphone come tablet, and today we can reveal a few more specs to keep you going.
Before we let you know about the leaked specifications we believe the new LG Intuition is a close rival, Slash Gear has found something really interesting via a Korean newspaper revealing a few more features on the galaxy Note 2 model GT-N7100.
This new leak mentions that the Samsung Galaxy Note 2 will indeed feature Android Jelly Bean 4.1.1 operating system in favour of the Ice Cream Sandwich flavour, this handset will apparently feature a 5.5-inch 1280 x 720p display screen believed to be HD Super AMOLED, it also comes with an 8-megapixel camera, 16 and 32GB storage options and will also feature both 3G and 4G LTE models.
The Galaxy Note 2 according to the Korean Newspaper will feature a Samsung Exynos 4 Quad 4412 (1.4 GHz) quad-core processor, if this is the case then it is very much similar to the Samsung Galaxy S3, the battery life will also be improved, looks like we have a gem here if all true, sounds like a winner.
The Galaxy Note 2 will have a rival, and this is the LG Optimus Vu now apparently called the LG Intuition, Verizon should be announcing this smartphone is the next few weeks and should go on sale for about $199 on new 2-year contract, it will also be available for $549 if you prefer not to have a plan.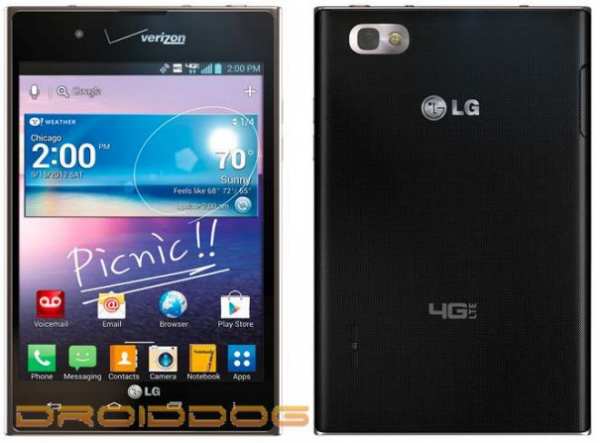 The LG Intuition is expected to come with a 5-Inch display with 1080p, below you can see a press shot photo of the Intuition and it looks big. Droid Dog suggests a September 15, 2012 launch; we will let you know more about this new phone as soon as we know more. This handset will also feature 4:3 aspect ratio, 1.3-megapixel front-facing camera, Android 4.0 Ice Cream Sandwich and 32 GB of storage.
That is all we know about the LG Intuition so far, personally we prefer the Galaxy Note 2, but this LG model seems the closet rival so far to date. Please let us know what you think, thanks.