Verizon LG Spectrum 2 & Samsung Stratosphere 2 with Snapdragon S4
It appears that the Big Red have a couple of more Android smartphones destined to play nice on their network at some point, and the word is the two handsets will be the Samsung Stratosphere 2 and the LG Spectrum 2, both follow ups to previous Verizon smartphones the Stratosphere and Spectrum of course.
Word that both these two successors are to hit the Big Red comes our way courtesy of the guys over at Droid-life by way of a Verizon equipment guide that shows both devices are indeed heading to the Big Red, but don't really offer much insight into specifications.
But what specs are known is that the Samsung Stratosphere successor, the SCH-I415 will sport a 4-inch Super AMOLED touch screen whilst being an LTE device and retain the same form factor as the previous handset.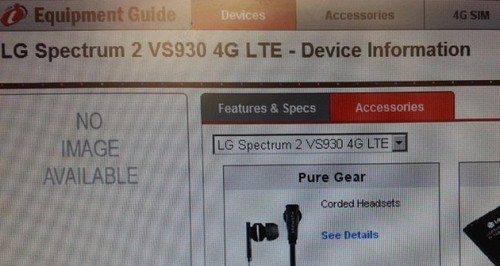 When it comes to the LG Spectrum successor, knowns as the LG Spectrum 2 VS930, virtually nothing is know other than what has already been previously leaked such as the Spectrum 2 will probably be similar to the LG Optimus LTE2, and as such should pack an HD display along with an 8 megapixel rear facing camera, 1GB RAM and a 1.5GHz Snapdragon S4 dual core processor.
As that Snapdragon S4 is quite capable of playing nice with LTE and batteries, it does appear that Verizon is 100 percent invested in the chip, and the guys say that all of last year's handsets that run anything other than an S4 are apparently getting phased out.
Of course there's no word on just when the Samsung Stratosphere 2 and LG Spectrum 2 will actually become available on the Big Red, and obviously no word on any pricing, but as and when we hear more we will of course pass it along.