Galaxy Note 2 gains European price tag
As you know, Samsung has dished the details on the new Samsung Galaxy Note 2 handset, but the big question remains is just how much the Galaxy Note 2 command price wise and when will you be able to purchase the device. Well we don't have any info on when you will be able to purchase the Galaxy Note 2, but we do have a little info on pricing, well for Europe anyway.
An article over on Engadget is reporting that a place card was spotted at IFA 2012 in Berlin today that gives a little hint at what the Samsung Galaxy Note 2 will command in Europe, well to be more precise, Germany, as the place card is for Vodafone Germany and shows that the handset will go for €639.90 a pop.
Obviously there's no word on what the Samsung Galaxy Note 2 will cost when it goes over the pond to the United States, but that €639.90 is roughly about $803, which seems a little on the steep side considering the the current Samsung Galaxy Note is 549-bucks commitment free with AT&T.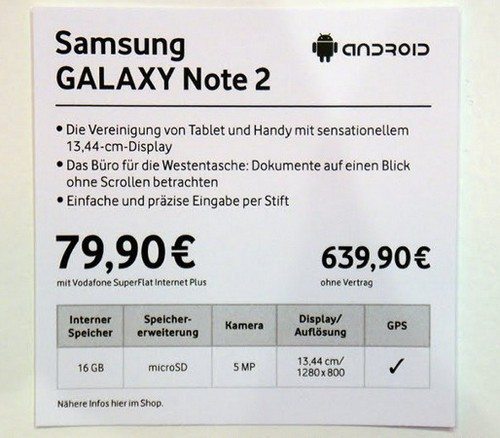 Although there is no word on if or which carriers might offer the Galaxy Note 2 in the United States, one can hope that hefty price would take a tumble when it reaches the USA, and no doubt carrier subsidy would have a big effect on that price.
So what do our readers think about that rather large price tag on the Galaxy Note 2, does it tend to put you off wanting the device a little' or will you be purchasing the Note 2 no matter what it costs? Feel free to let us know by dropping a line to our comments area below.