Galaxy Note 2, iPhone 4S compared on video
As you are no doubt aware the latest device to come out of the Samsung camp is of course the Samsung Galaxy Note 2, a device that Sammy recently went all official with, and as usual when a new device is coming to the mobile space, that device sooner or later gets compared to the current Apple smartphone. Thus we have a comparison video for your viewing consideration below, comparing the Galaxy Note 2 with the iPhone 4S.
The Samsung Galaxy Note 2 versus the Apple iPhone 4S comparison video comes our way courtesy of the guys over at Android Authority that attended a pre-briefing with Samsung at IFA 2012 in Berlin, and managed to get a little playtime with the Samsung Galaxy Note 2.
As you will see in the footage, the iPhone 4S is kind of dwarfed by the Galaxy Note 2 in size, with the iPhone 4S sporting the 3.5-inch touch screen whilst the Note 2 packs a 5.5-inch display, and also delivers a little size comparison between the two devices and the Samsung Galaxy S3.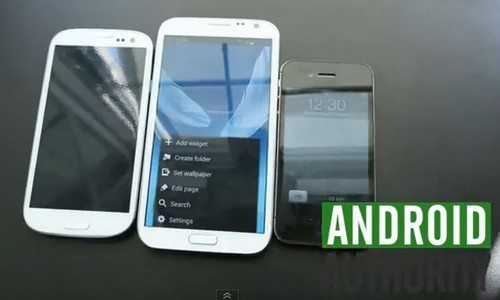 The guys say in their article that goes along with the footage, which you can read in its entirety by hitting up their website, that it is obvious the Samsung Galaxy Note 2 is a better smartphone than the iPhone 4S considering the iOS smartphone was released back in October of last year, but once the iPhone 5 is out, then we'll have to see whether the Galaxy Note 2 can be a real challenger.
Anyway, enough of my babbling on, I'll leave it right there as I am sure all you really want to do is head on down and hit that play button to check out the comparison, so get to it and enjoy.