Galaxy Note 2 vs original Galaxy Note, Samsung changes
We know that many of our readers were waiting for the unveiling yesterday of the Samsung Galaxy Note 2 (Note II) and as expected it was revealed in a blaze of publicity at IFA in Berlin. This Android smartphone, described by some as a 'phablet,' looks set to be a massive success for Samsung but if you already own the original Galaxy Note smartphone you may be wondering if it's worth upgrading to the Galaxy Note 2. Alternatively you may just want to see more about what the Note 2 has to offer so take a look at the Galaxy Note 2 vs. the original Galaxy Note to see what changes have been made by Samsung.
There were many things to love about the original Galaxy Note smartphone and despite initial rumblings over whether consumers would take to a phone with such a large display those fears were swiftly allayed. We'll run through some of the changes between the original Note (N7000) and the Note 2 (N7100) and there are certainly a few notable improvements, which may tempt you to upgrade from your present device.
We'll start off with the operating system and obviously this will have been updated but the big question before the official showing yesterday was whether the Galaxy Note 2 would launch running Android 4.0 ICS or the very latest Android OS, 4.1 Jelly Bean. The original Galaxy Note was launched running Android 2.3 and received an update to 4.0 ICS and we and many others were delighted to hear that the new Galaxy Note will indeed launch on Jelly Bean. Another major spec improvement for the Galaxy Note 2 is an upgrade to a 1.6GHz Exynos quad-core processor, up from the 1.4GHz Exynos dual-core processor of the first Galaxy Note.
If you liked the whopping 5.3-inch HD Super AMOLED display of the original Galaxy Note then the display of the Galaxy Note 2 is even bigger at a massive 5.5-inch HD Super AMOLED. However as far as resolution goes, the resolution of the original Galaxy Note was 1280 x 800 with a ppi of 285 while the Galaxy Note 2 resolution is 1280 x 720 and a ppi of 267, which might surprise some as it's slightly less although not by much. Internal storage for the original Galaxy Note was 16GB expandable to 32GB with microSD but the Galaxy Note 2 will have 16, 32 or 64GB expandable to 64GB with microSD. Looking at RAM there's a big step up to 2GB in the Galaxy Note 2 from 1GB in the original.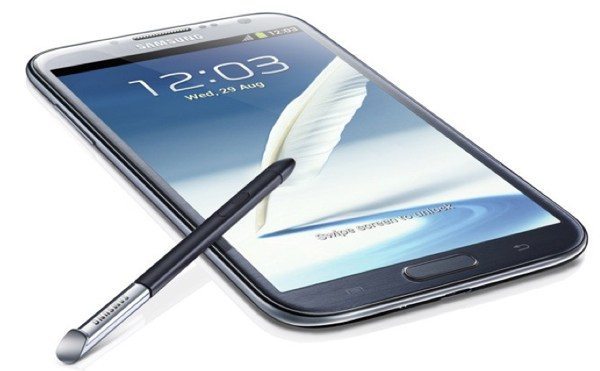 Other changes include an increased battery size, which will be important for heavy users, to a 3100mAh battery in the Note 2 from the 2500mAh battery of the original and also the new version features Bluetooth 4.0 rather than version 3.0. Comparing the two then reveals that the Galaxy Note 2 has many major upgrades that might tempt you to upgrade though if you were hoping for an improved camera you might be disappointed. The original Galaxy Note has an 8-megapixel rear camera, 2-megapixel front-facing shooter and 1080p video capture capability while the Galaxy Note 2 is the same except that the front-facing camera is now 1.9-megapixels.
Finally if you want to compare sizes then the dimensions of the original Galaxy Note are 146.9mm x 83mm x 9.7mm and it weighs 178g. The Galaxy Note 2 measures 151.1mm x 80.5mm x 94mm and it weighs 180g. The Galaxy Note 2 will be released in Marble White or Titanium Gray color options and while there's good news for some, as it will launch first in October in Europe, Asia and the Middle East, the only news on a release for the US is that it will be later this year. This is likely to cause a lot of disappointment as we know that many US readers were hoping to get their hands on the Galaxy Note 2 very shortly.
We'd like to hear your thoughts on the Galaxy Note 2. Will you be enticed to upgrade from your present smartphone to the latest from Samsung? If you're in the U.S. how do you feel about the fact that you won't see a release at the same time as other regions? Let us know with your comments.
Source: Engadget