Jelly Bean Samsung Galaxy Camera launched
If you are a regular reader of our articles you'll know that a few days ago we reported on a new device possibly coming from the Samsung camp that wasn't a smartphone or tablet, but rather an Android based camera, and well that new Android camera has turned out to be quite real, as Samsung has now launched the Samsung Galaxy Camera at IFA 2012 in Berlin.
The Samsung Galaxy Camera is said to combine high performance photography with the latest version of the Android operating system, Android Jelly Bean along with wireless connectivity, enabling the user to snap photos and capture videos and share them anywhere and at any time.
The Samsung Galaxy Camera features a 4.77-inch HD Super Clear Touch display, along with a 16.3 effective megapixel 1/2.3-inch BSI CMOS lens, a 1.4GHz quad core processor, 8GB memory, memory card slot, HDMI 1.4, 10 modes, Share Shot, Smart Pro feature, auto-cloud back-up, 3G and 4G connectivity, WiFi a/b/g/n, GPS/GLONASS, Bluetooth 4.0, the usual Google services, sports a 1650mAh battery, and measures 128.7 x 70.8 x 19.1mm with a weight of 305 grams.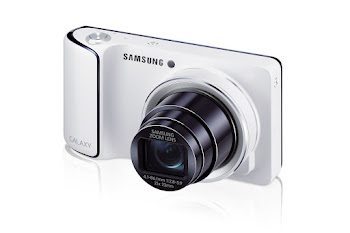 That Smart Pro feature apparently make it easier for the user to create advanced photographic setups with a few simple steps that deliver stunning results, whilst the easy to navigate menu system enables the user to pick from a series of preset scenario options that auto-adjust the settings so you can snap the perfect photo.
The device also features a Photo Wizard that includes a set of 35 photo editing features, whilst the Movie Wizard enables the user to create and edit videos easily via the touch screen. Whilst the Smart Content Manager intelligently tags faces, creates folders and suggest which photos to delete if they are not your to your desired standard.
There will be two versions of the Samsung Galaxy Camera becoming available, a 3G plus WiFi model and a 4G plus WiFi version; however just when you will be able to purchase the Samsung Galaxy camera, and for how much, hasn't yet been revealed.
Does the Jelly Bean packing Samsung Galaxy Camera look like the camera you want to go along with your Android smartphone and tablet?