Lenovo ThinkPad Tablet 2 previewed on video
If you are a fan of Lenovo made tablets you'll probably already know that Lenovo is expected to release their Windows 8 packing ThinkPad Tablet 2 sometime in October, probably the same date when Microsoft officially launch Windows 8 on the 26th, so with that in mind, we have a nice little preview video showing off the Lenovo ThinkPad Tablet 2 for your viewing consideration below.
The Lenovo ThinkPad Tablet 2 preview video comes our way courtesy of the guys over at The Verge who paid a visit to the Lenovo booth at IFA 2012 in Berlin and managed to get a little playtime with the ThinkPad Tablet 2, although in the video you will note that the tablet is attached to a mockup Bluetooth keyboard.
Now for a few specs on the Windows 8 slate, the device sports a 10.1-inch IPS LCD touch screen along with one or two GB of RAM, 16GB or 32GB on board storage, an 8 megapixel rear facing camera along with a 2 megapixel front facing snapper, full size USB port, microSD card slot, SIM card slot for 3G and 4G, stylus that uses an active digitiser, and Intel Atom processor along with a battery that is claimed to deliver 10 hours of usage.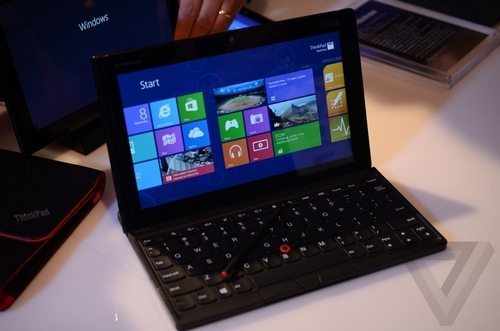 The Lenovo ThinkPad Tablet 2 is 9.8mm in thickness with a weight of 600 grams, and will be offered by AT&T over the pond in the good old US of A, although currently there is not work on what the Windows 8 slate will hit the pocket for.
So that's your lot, I'll leave it there and let you head on down to mash that play button and check out the preview with the ThinkPad Tablet 2, and feel free to let us know you are waiting to purchase the new Windows 8 slate once it arrives, by dropping a line to our comments area below…enjoy.