New Amazon Kindle Fire Pictured
You probably know that yesterday Amazon let it be known that the Kindle Fire has sold out, and as new models of the Kindle Fire are expected to be revealed on the 6th of September, obviously just like most new gear, purported pictures of the new products leak to the net waves, and thus it appears that images of the upcoming new Kindle Fire have been revealed.
Yesterday the guys over at The Verge were sent an image of a new Amazon Kindle Fire with what is being touted as 'Paperwhite' technology, with the overall design remaining the same as the original Kindle Fire, whilst the button below the display is now gone.
According to the guys, 'Paperwhite' seems to reference the tablet's improved display over the Pearl E Ink used since the 3rd generation Kindle, and apparently Amazon will be touting a higher resolution, integrated lighting, higher contract and a battery life of 8-weeks with the device.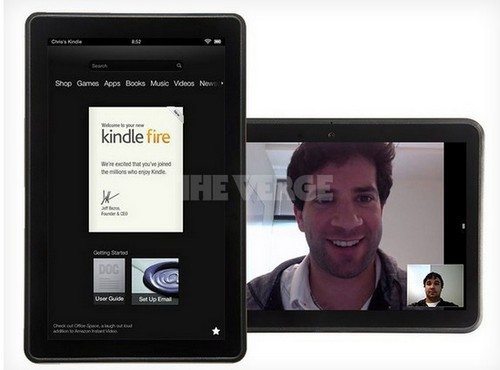 After receiving the image of the 'Paperwhite' Kindle Fire, The Verge guys received more pictures of the new Amazon Kindle Fire from the same source, and although the images seem to show the new Kindle Fire resembles the current model, the guys say there is a prominent notch on one of the long sides that could possibly be a front facing microphone for video calling.
The images also show a front facing camera, and even Skype is demonstrated, so it looks like the new Kindle Fire will come with Skype support.
Of course nothing has been confirmed with the new Kindle Fire by Amazon, so this should be treated as rumour for now, but as Amazon should be dishing the details on their new offerings next week, it wont be long before we all know for sure.