Facebook Good Sort app shows popular posts
If you're one of many who are really into their social media use then you may be interested in a new app for Facebook users. The iOS Good Sort app for iPhone, iPod touch and iPad provides a useful way to browse Facebook and can show popular posts from likes, dislikes and shares. This enables the user to see which posts are the most popular and manage their Facebook page and although it's a new app it's already receiving some great customer reviews.
The Good Sort app is by Firebird Apps LLC and priced at $0.99 at iTunes here but if you want to sort and collect posts either from friends, groups or pages then you'll also need to pay a $2.99 quarterly subscription (in-app purchase). To do this you will also need admin access to Facebook pages). The app is compatible with iPhone, iPod touch and iPad running iOS 4.2 or later and you can sort posts either by popularity or date as well as save your favorite posts to your iPhone along with the likes and comments to that post. It's a great way of going back to previous conversations and adding further comments and will help posts being buried in your feed and forgotten about.
Good Sort is a neat app but we wonder how many people will be willing to pay the quarterly subscription. If the subscription expires though, you can still access the sort history as well as saved favorites. Obviously the access you can gain to posts from friends groups or pages relies on the privacy settings of the various accounts. Our initial impression is that this could be a really useful app to heavy Facebook users and over on Mashable they've tried it out.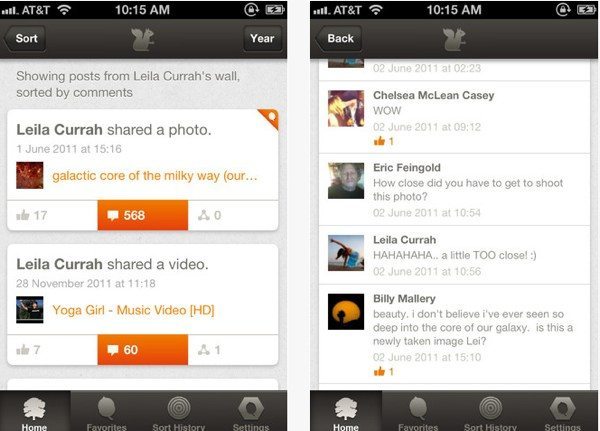 They found the app simple to use and effective but it was easily overwhelmed with the size of the Mashable account and began crashing. When the team at Mashable switched to a personal Facebook page instead there were still problems loading the app but it was found to be handy when it was working. A note on the app description at iTunes says that the developers of the app are already aware that at the moment there can be difficulty opening posts in the latest Facebook iOS app (5.0). While this is being sorted users are urged to open posts in Safari.
We'd like to hear your thoughts on the Good Sort app, which we reckon could be useful to many regular Facebook users. Will you be downloading this new app from the App Store? Maybe you're already using it and can tell us what you think? Would you recommend it to our readers?