Verizon Nokia Lumia 822 vagueness
Upcoming smartphones are often leaked with images of components spreading on the Internet like wild fire, which can often prove to be accurate. Other times working prototypes are left in bars or placed on popular auction sites for the world to see, but sometimes new smartphones are leaked via internal information from the major carriers being leaked and it's this that has led to some Verizon Nokia Lumia 822 vagueness.
Yesterday Microsoft and Nokia jointly held a press event to showcase upcoming handsets such as the Nokia Lumia 920, and its cheaper sibling the Lumia 820. Now while these devices are still fresh in everyone's minds the guys over at Engadget have been handed some very interesting images.
The images in question are from US carrier Verizon's device management system, which shows up a couple of new devices that have not been announced yet. These include a Nokia Lumia 822 in either Gray or white, and a device with the model number of HTC 6435. This has been leaked before and is thought to be HTC's answer to the hugely popular Samsung Galaxy Note smartphone tablet PC crossover.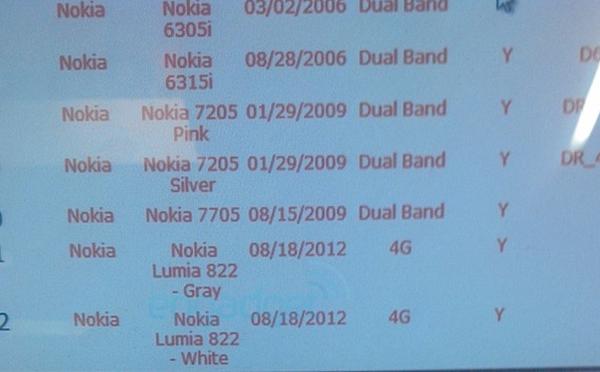 While this information doesn't confirm or guarantee a future launch of the devices in any way, hardware normally crops on the carriers device management system a few weeks before their official launch for the networks customers.
This will be good news for those that are fans of the Windows Phone platform and people that want a Galaxy Note rival that isn't called the Intuition. If the Lumia 822 has similar specs to the already announced Lumia 820 it should feature a 4.3-inch WVGA ClearBlack OLED screen, and powered by a 1.5GHz dual core processor among some other worthy specs.
Are you thinking of getting a Windows Phone 8 handset?