iPhone 5 is ugly according to voters
We are only a matter of days away now before it is widely believed Apple will finally unveil officially the iPhone 5. Until then all we know about the upcoming device is the numerous alleged component leaks and other speculation on the handsets features and specifications. There have been a number of renders and images appearing of the device though, and according to voters the iPhone 5 is ugly.
There is a poll currently running on Business Insider with the majority of readers taking part in the survey feel the iPhone 5 is ugly. Now it is obvious the image provided on the poll is just some render that has been created going on what rumours have been leaked about what the iPhone 5 may be like.
Common belief is that the iPhone 5 will feature a larger 4-inch display, which has been achieved by Apple making the device slightly longer. There has been a lot of talk of the iPhone finally getting a larger display, as many Android handsets now feature screens that are 4.3-inches and above. The highly anticipated Samsung Galaxy Note 2 will feature a display of 5.5-inches, while the iPhone's closet rival the Samsung Galaxy S3, features a display of 4.8-inches.
At the time of writing the poll has over sixty percent of respondents saying the iPhone 5 is not to their tastes visually. The poll shows an image of an iPhone 4S alongside what could be the iPhone 5, personally we here at Phones Review cannot vote on this one as the Apple smartphone does not even exist yet, but please do have your say.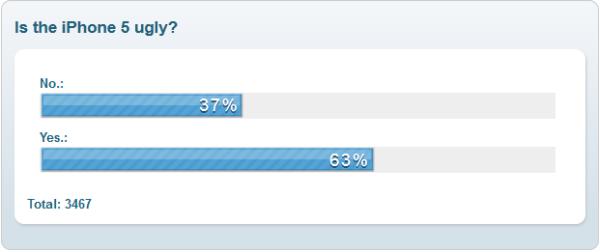 Meanwhile there are more suggestions that the iPhone 5 will be made available on September 21st, as MacRumors are reporting that they have been tipped off that FedEx is making plans for a "surge volume" event during the period of September 21-24. These ties in with previous suggestions the device would be actually released on this date.
Do you think the iPhone 5 is ugly?