AT&T Samsung Galaxy Note 2 release close
Previously consumers in the US have had to wait a lot longer sometimes when it comes to geting their hands on certain smartphones released by Samsung. Take the original Galaxy Note for example, customers of T-Mobile have only recently got access to the device, but it seems this time around things will be different as the AT&T Samsung Galaxy Note 2 is close.
We have already told you that the device is seemingly heading to Sprint and T-Mobile, after it was previously claimed by Samsung the device will be arriving on US shores by the end of 2012. Now a report on Phandroid is reporting about some screenshots from a device going under the model number of SGH-I317 that has slipped out.
This comes after an alleged system dump from what was claimed to be the AT&T Galaxy Note 2 had leaked out. These latest images come courtesy of Brief Mobile that has a previously reliable source, and almost confirms the device is heading to the carrier.
It also seems just like the version supposedly heading to Sprint that the Samsung Exynos 4412 quad core processor will be intact. The original Galaxy Note along with the Galaxy S3 both had to switch to a Qualcomm chip to work with AT&T's 4G LTE, so it looks like Samsung has been busy.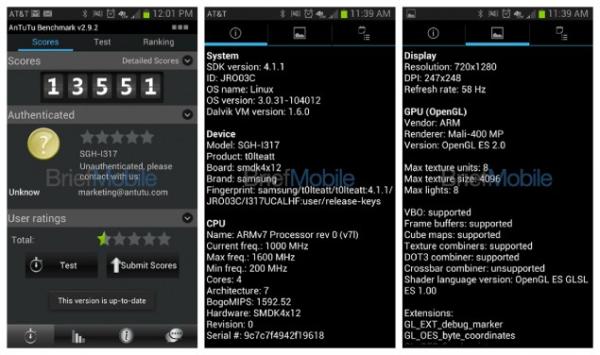 There are a number of screenshots showing the specs for the Note, some of which can be seen on this page, and it gives a screen resolution of 1280 x720, Android Jelly Bean 4.1.1 among other things, and there are also some benchmarks. The handset achieved a respectable 5912 in Quadrant, and ATuTu gave it 13551, which is higher than the Galaxy S3.
The source was a little cagier when it came to a release date, but said to expect it "soon", so hopefully we will get an official announcement soon.